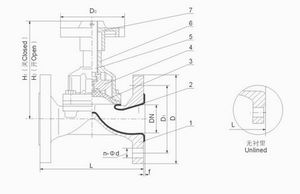 It is special for controlling the noncorrosive or the strong corrosive media. Its body inner surface is unlined or lined with different fluorine plastics which can be selected to suit with different working temperatures and fluid pipelines.
Suitable temperature: ¡Ü85¡æ, ¡Ü100¡æ, ¡Ü120¡æ, ¡Ü150¡æ according to the materials of lining and diaphragm
Three-way diaphragm valves are used to switch over, mix and divide the flow of corrosive or noncorrosive liquid, gas or powdery mediums. Upon opening and closing, the smooth flow channel effects less pressure loss, making operation quite labor-saving and maintenance fairly easy.
Design & manufacture: GB 12239
Face to face: GB 12221, JB1688
Flanged ends: GB4216, JB78
Test for lining layer: Electro spark detecting
Test: GB/T 13927
| | |
| --- | --- |
| Body & Bonnet | Cast Iron, Carbon Steel, Stainless Steel |
| Lining | Unlined, Fluorine Plastic |
| Diaphragm | Fluorine Plastic |
| Disc | Cast Iron, Stainless Steel |
| Stem | Carbon Steel, Stainless Steel |
| | | | | | | | |
| --- | --- | --- | --- | --- | --- | --- | --- |
| DN | L | D | D1 | D0 | Z-¦Õd | H | Weight kg |
| 20 | 121 | 105 | 75 | 70 | 4-¦Õ14 | 92 | 3 |
| 25 | 131 | 115 | 85 | 83 | 4-¦Õ14 | 96 | 4 |
| 32 | 150 | 140 | 100 | 114 | 4-¦Õ18 | 131 | 6.5 |
| 40 | 163 | 150 | 110 | 114 | 4-¦Õ18 | 142 | 7.5 |
| 50 | 194 | 165 | 125 | 150 | 4-¦Õ18 | 167 | 10.5 |
| 65 | 220 | 185 | 145 | 165 | 4-¦Õ18 | 203 | 17.5 |
| 80 | 258 | 200 | 160 | 230 | 8-¦Õ18 | 216 | 25 |
| 100 | 309 | 220 | 180 | 280 | 8-¦Õ18 | 270 | 36 |
| 125 | 362 | 250 | 210 | 280 | 8-¦Õ18 | 319 | 47 |
| 150 | 412 | 285 | 240 | 368 | 8-¦Õ22 | 365 | 73 |
| 200 | 529 | 340 | 295 | 483 | 8-¦Õ22 | 462 | 142 |
| 250 | 641 | 395 | 350 | | 12-¦Õ22 | | |
| 300 | 757 | 445 | 400 | | 12-¦Õ22 | | |